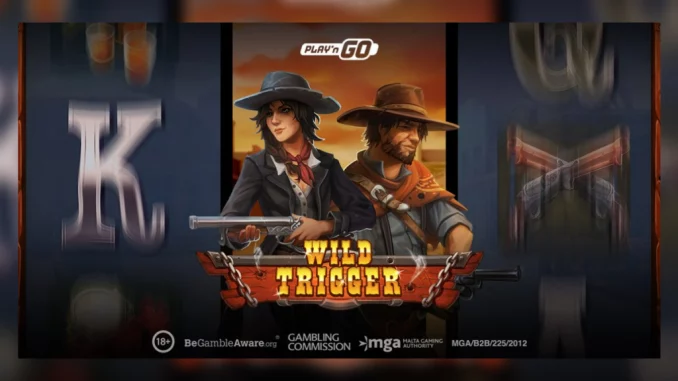 Play'n GO mosey on into the Wild West and add the 'Most Wanted' game in the industry to their epic portfolio, Wild Trigger. The game is already available in Kenyan online casinos, so you can register and try it out.
Legendary bandits Clint McGraw and Dottie Fields make quite the duo. Pulling off the bank heist of the century the pair get away with the loot in hand. But in true outlaw style, it's not in their nature to share. Witness the duel that put the 'Wild' in The Wild West.
Thanks to a strong narrative tied with innovative features to complement the theme, character and storyline, this slot game is action-packed from the very first spin.
The characters Dottie Fields and Clint McGraw serve as animated Stacked Wilds on the reels so that the narrative unfolds throughout the game.
In the Duel Free Spins Feature both Stacked Wilds create an innovative twist, which means rather than seeing a left to right action in the base game, the player will see the game paying both ways which is really clear through the epic animation, which ties beautifully with the theme, as Clint and Dottie fire shots; the journey of their bullets highlighting the different paylines won.
Throughout gameplay it's hard not to be immersed into the feel of The Wild West. A dusty backdrop with a saloon and having the reels designed as wooden style background with symbols in a rugged Western font and the twang of a banjo in the stunning audio design is truly captivating.
The Wild West is popular in film, literature and games as it lends itself to rugged characters that get themselves in sticky situations. Wild Trigger is the third game to join Play'n GO's cowboy themed games joining the likes of Golden Colts (2019) and Gunslinger (2018).
Head of Games at Play'n GO, Charlotte Miliziano said.
'Because we get to work with a variety of themes, stories and characters it really gives us the space to be creative and I think you can see that in Wild Trigger. The way the team have tied in the features with the story, like the gunfire showing the player the paylines demonstrates our dedication to the details.'y'll be something for them.'